When I was new to drawing, pen and ink was difficult, to put it lightly!
The permanent nature of pen drawings scared the living daylights out of me. That's why I stuck with drawing with pencil for a long period.
However over time, I gradually saw the benefit of pen – how it doesn't smudge, transfer to other pages within a sketchbook, and can easily apply colour ontop.
Learning from books is a great way to progress your art, your knowledge, and take your craft to the next level. I love books, and I've made it a habit to read as part of my morning routine, whilst I eat lunch and dinner, and any spare time in between.
My intention this year was to be about growth. One growth factor was that of drawing, improving my drawing to take it to even higher levels.
I stumbled upon Aphonso Dunn's YouTube channel, and as a result, I came across his book. I'm always on the hunt for art books.
So I thought I'll take the opportunity to kill two birds with one stone, and write what I've learnt, as a reminder to myself (how selfish!), whilst giving you a solid book review too. They say teaching helps you learn it twice, and I can vouch for that!
Within this blog post you will discover my review of 'Pen & Ink Drawing: A Simple Guide' by Aphonso Dunn. Before we get started, I'm not affiliated and this blog post is not sponsored – it's my personal and honest Pen and Ink drawing book review.
You will learn within this Pen and Ink book review:
An introduction to the book
It's target audience
What I learnt
Likes and dislikes
Where you can purchase the book
My rating out of 5
An introduction
This book teaches beginners to more advanced artists about pen and ink drawing. It covers things like materials, how to render basic forms, to helping you construct believable pen and ink drawings.
It's written by Aphonso Dunn, an American artist, educator, and author, living in New Jersey.
The paperback is currently priced at £16.50 or $13.51 (November 2023), and £7.50 or $9.99 for the Kindle version (which I purchased).
The book has 166 pages, written in English and at time of writing (November 2023) has 4,000+ reviews on Amazon.
"Pen & Ink Drawing: A Simple Guide covers the essential aspects of pen and ink drawing and more. It explores basic materials and instruments; fundamental properties of strokes and pen control; key elements of shading; and indispensable techniques for creating vibrant textures."

Pen and Ink Drawing: A Simple Guide – Amazon book description
The book was published in 2015 by publishing house Three Minds Press.
Pen and ink drawing book review target audience
The book's target audience is any artist that wants to learn how to create pen and ink drawings. If you're a complete beginner, this book is a nice introduction. Equally, if you're more advanced, you can certainly learn a thing or two!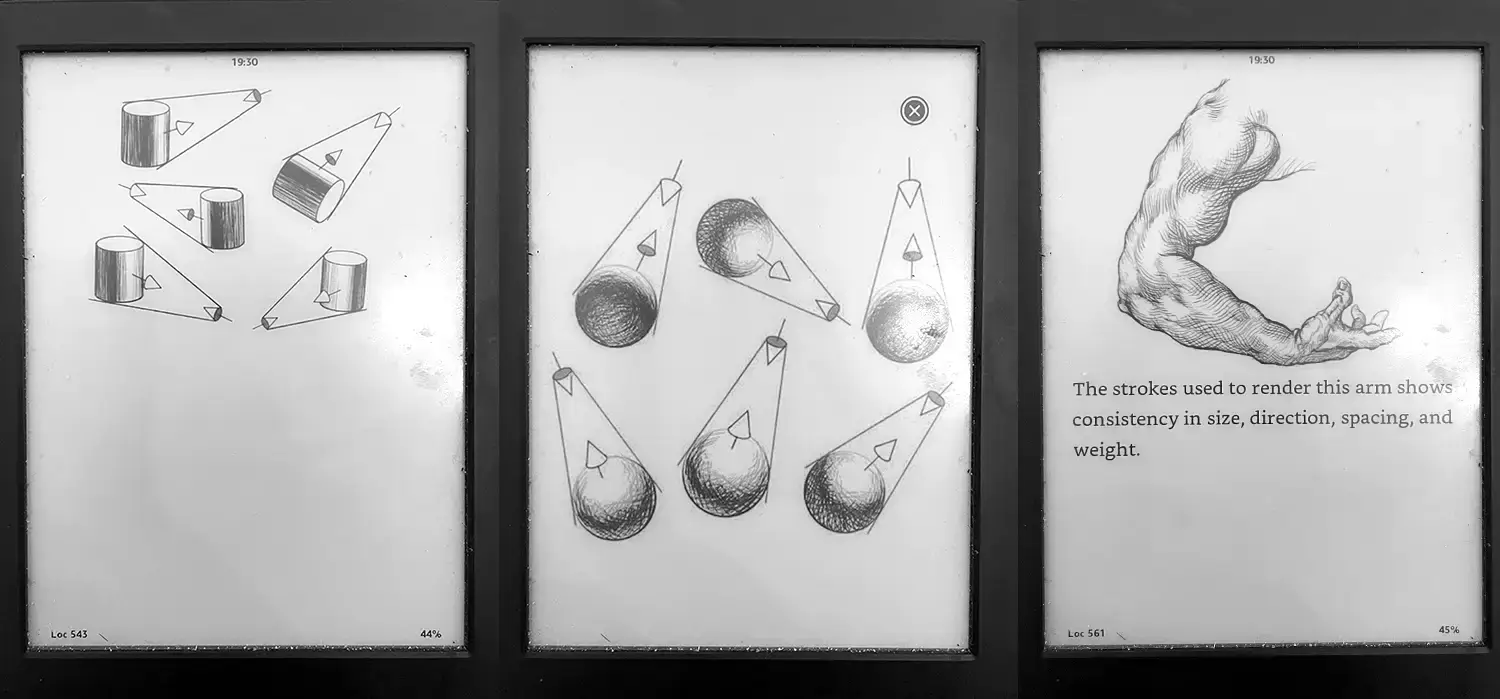 Even if you're not interested in pen and ink drawing, this book serves key fundamentals to help progress your drawing skill. Of course, it's mainly written for those who have an interest in pen and ink drawing.
If you want to get into pen and ink drawing, or want to level up your drawing (like myself), it's perfect for you.
What I learnt
This isn't a book that you just read. It's a interactive book – make notes, draw along and study.
If you're passionate about your art and progressing your skill, then I recommend you draw along with the exercises that Aphonso explains. Here's a few key topics I loved and learnt whilst reading:
Basic forms
One of the favourite things that I learnt was shading basic forms, especially how light and shade effects basic forms.
For example, how a box has six sides, and how each side should be rendered and shaded differently, depending on where the light derives. I must admit that I already knew about basic forms, but it was interesting to discover why it's important, and how it can improve your art.
Values
Values were another intriguing topic in the book. It's crucial that before you put pen to paper, you think about the subject's values.
Aphonso recommends four to six values per drawing, which helps unites the whole piece. Drawing value stripes before you start a drawing was eye-opening.
Values can also effect composition. For example, if you place a dark value next to a light value, then you can draw attention to that part of the drawing.
Exercises
The book is full of exercises to practice and study. I urge you to follow along and take part in all of the exercises.
There's no better way to actively learn by drawing along. I especially enjoyed the exercises discussing shadow borders and different ways to render a subject.
Likes & dislikes
To be honest, there weren't too many dislikes with this book! All explanations are clear, with drawings and exercises alongside to get the point across.
What I liked the most were the visual exercises and diagrams, particularly showing the basic forms and how to render. Terminology was clear and concise, which makes it understandable for all artistic abilities.
In terms of dislikes, it might have been beneficial to see how other past and present artists used pen and ink to create their drawings.
Similarly, if you purchase the book on Kindle, I get a sense there's more drawings in the paperback version, though this is just a guess. This is knit-picking, but I had hoped there were more exercises to follow. However, this is an incredibly minor note.
Overall, there were certainly more likes than dislikes!
Were you can purchase the book
You can purchase the book on Amazon, on his website, or on AbeBooks.
My rating out of 5
I loved working through this book and will certainly come back to it in the future.
My rating is 5 out of 5 for it's advice, quality and guidance throughout. I've learnt a thing or two from purchasing the book, exactly what I was looking for.
I purchased the Kindle version, which was a good experience, so can't comment on the paperback book. However, the paperback version looks great too.
If you're a beginner who wants to improve your pen and ink drawings, or you're a more advanced artist who wants to enhance your skills, this is the book for you!
Learn and discover my other blog posts
If you liked this Pen and Ink drawing book review, check out my other book review on James Gurney's Light and Colour. A great book to help you improve your colour theory.
Similar to this book review, I go into depth about what you can expect from the Gurney's book, my likes and dislikes, and my rating out of 5.
Otherwise take a look at my YouTube channel, all about portraits – The Portrait Guru. Alternatively, browse through my illustration portfolio.
Many thanks for listening and visiting my blog today. You can follow what I'm up to on my Twitter, Facebook, or Instagram pages, I'll really appreciate it if you do, and don't be afraid to say hi to me! Many thanks again, and have a great day!